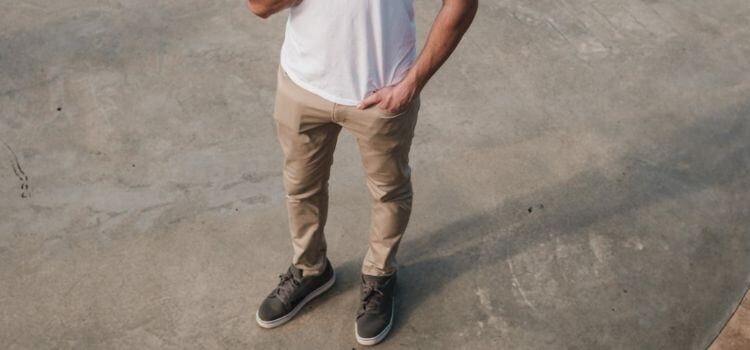 Khaki pants are a versatile and essential addition to any wardrobe, offering a classic and timeless style. However, the options can seem endless when choosing the right belt to pair with your khaki pants.
This article will explore the best choices that complement khaki pants, helping you make a stylish and confident fashion statement.
Understanding Khaki Pants
Before exploring the belts world, let's establish a foundation by understanding khaki pants. A light brown or tan hue, Khaki is a neutral color that pairs well with a spectrum of shades. The versatility of khaki pants makes them suitable for casual and semi-formal occasions, making them a must-have in any wardrobe.
What Is Khaki?
Khaki, originating from Urdu and Persian, is a light brown or tan. In fashion, it transcends its chromatic definition, embodying a versatile and neutral-toned fabric, often associated with a distinctive style of pants. These khaki pants have become an iconic wardrobe staple due to their celebrated adaptability.
The term's historical roots extend to the mid-19th century, finding prominence during the British colonial era in India. Initially, Khaki was a dust-colored fabric, but it gained widespread recognition when adopted by the British military for their uniforms.

The practicality of Khaki, effectively camouflaging dirt and dust, led to its commercialization and global popularity in military attire.
Khaki's enduring appeal lies in its ability to effortlessly transition from casual to semi-formal settings, making it a go-to choice for various occasions. Its neutral hue provides a canvas for diverse styling, ensuring Khaki remains timeless and essential in contemporary fashion. From its humble beginnings in colonial India to its ubiquitous presence in modern wardrobes, Khaki symbolizes a color and a style that stands the test of time.
Things to Consider When Picking a Belt for a Khaki Pant
Match the Belt Color to Your Shoe Color
When selecting a belt for khaki pants, a crucial consideration is matching the belt color to your shoe color. This timeless fashion rule contributes to a polished and harmonious look, reflecting classic elegance in your ensemble. Aligning the color of your belt and shoes can create a cohesive look, whether you opt for brown-on-brown for a sophisticated casual appearance or black-on-black for a more formal setting. Experimenting with neutrals allows for subtle variation while maintaining a refined aesthetic. This simple yet impactful detail showcases attention to style, ensuring you present a well-thought-out and cohesive appearance in any setting.
Match the Belt Size to the Belt Loops
A key consideration when choosing a belt for your khaki pants is ensuring that the belt size aligns with the belt loops. This small detail can significantly impact your outfit's overall aesthetics and functionality. Opting for a belt that fits seamlessly through the belt loops enhances the polished look of your ensemble and ensures a comfortable and secure fit. The right Size prevents unnecessary sagging or pulling, allowing the belt to sit snugly on your waist. This attention to detail contributes to a well-put-together appearance, showcasing your commitment to a refined and stylish wardrobe.
Wear a Belt with Dress Shoes
Completing a sophisticated look with khaki pants involves pairing them with dress shoes and a well-chosen belt. When opting for dress shoes, it's essential to wear a belt that complements the formality of the footwear. Creates a cohesive and polished appearance, enhancing the overall elegance of your ensemble. Choose a belt color that harmonizes with your dress shoes, whether classic black, brown, or another coordinating shade. This simple yet impactful coordination adds a finishing touch to your outfit and reflects a keen eye for detail in your sartorial choices.
Think of the Belt as an Accessory
Beyond its practical function, consider the belt a fashion accessory when styling your khaki pants. This perspective allows you to elevate your outfit by choosing a belt that enhances your overall look. Experiment with different textures, materials, and buckle styles to add a personalized touch to your ensemble. Whether opting for a classic leather belt for a timeless appeal or introducing a braided or fabric belt for a more casual flair, treating the belt as an accessory opens up creative possibilities. This approach secures your pants and contributes to a well-thought-out and fashion-forward presentation.
Choosing the Right Belt for Your Khakis
The Classic Canvas Belt
The classic canvas belt is a popular choice to wear with khaki pants. These belts are usually made of durable cotton canvas and come in various colors. They look especially great with Khaki due to the neutral tones of the pants.
A canvas belt accentuates the casual and relaxed look of khaki pants perfectly. For a timeless combination, it is recommended to pair khaki pants with a canvas belt in a shade that matches your shoes or shirt. This straightforward choice is ideally suited for regular wear.
Leather Belts: A Timeless Elegance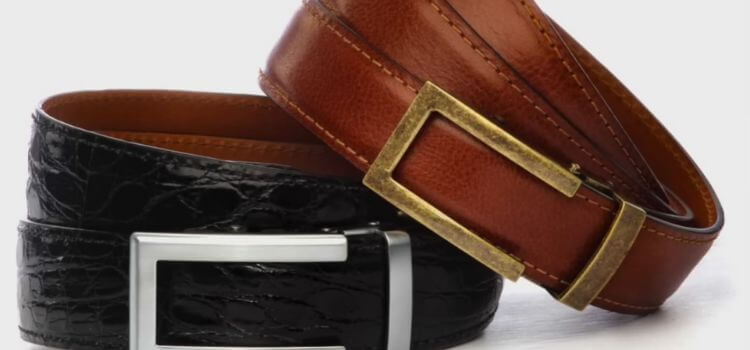 A leather belt is an excellent choice if you want to elevate your khaki pants outfit. Leather belts exude sophistication and can be worn on various occasions, from casual to formal. Brown leather belts, in particular, harmonize splendidly with khaki pants.
The classic and elegant look is achieved through the rich and warm tones of brown that perfectly complement the earthy hue of khaki. Choose a leather belt in a shade that contrasts slightly with your khaki pants, such as a deep brown or tan, to achieve a polished appearance.
The Braided Belt: Casual Chic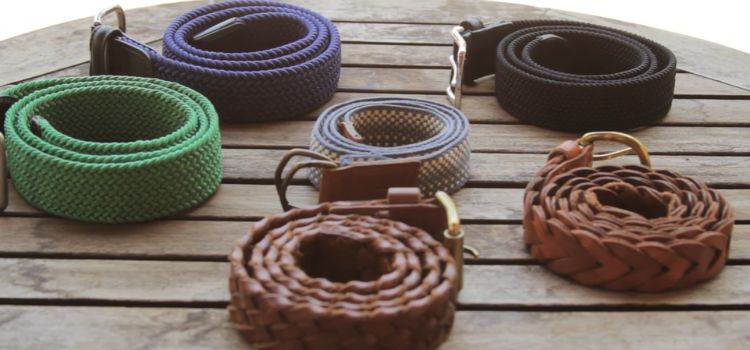 Consider pairing your khaki pants with a braided belt for a more relaxed and laid-back style. Braided belts are typically made of woven fabric or leather, offering a unique texture and appearance.
These belts are a perfect choice for a day at the beach or a casual outing. Combining khaki pants and a braided belt creates a beachy summer look that's both comfortable and stylish. Opt for a belt incorporating neutral colors like beige or tan to maintain a harmonious and relaxed vibe.
The D-Ring Belt: Rugged Utility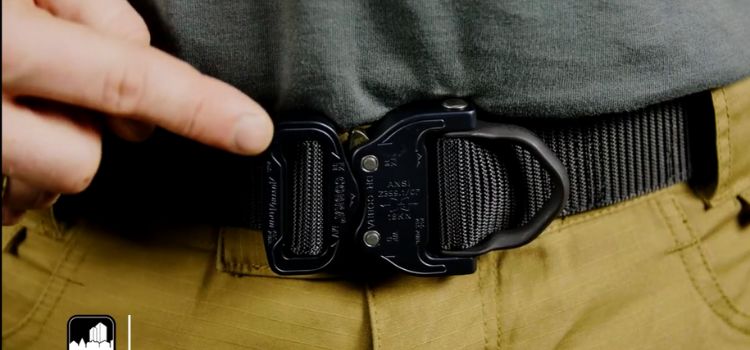 D-ring belts are a stylish and practical choice for khaki pants. These belts feature a metal D-shaped ring as a buckle, providing a modern and realistic appearance. They are particularly well-suited for outdoor adventures and casual outings.
To enhance your khaki pants' rugged and adventurous aspect, choose a D-ring belt in a contrasting color, such as olive green or navy blue. It will create a bold and eye-catching look that complements the subtlety of khaki.
Webbed Belts for a Sporty Touch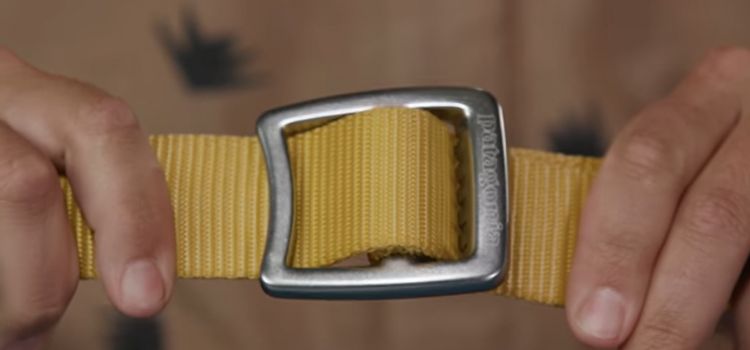 For a sporty and active style, webbed belts are an excellent addition to your khaki pants ensemble. These belts are commonly made from nylon webbing and feature a variety of color options.
Select a webbed belt with a vibrant hue or bold pattern to create a lively and dynamic appearance. The contrast between the colorful belt and the neutral khaki pants will make a strong fashion statement, ideal for outdoor activities and casual gatherings.
What Color Belt with Khaki Pants?
Choosing the right belt color for khaki pants involves considering various factors to achieve a well-coordinated and stylish look. A classic choice is a brown belt, seamlessly complementing the earthy tones of Khaki and providing a timeless aesthetic suitable for various occasions. Navy blue belts add a touch of sophistication, while olive green belts offer a rugged yet refined appeal.
A burgundy belt can elevate your ensemble for a bolder statement, particularly for more formal events. It's crucial to consider the occasion—opt for casual canvas or braided straps for laid-back outings, classic leather for business casual, and refined options for formal affairs. Ultimately, the perfect belt color adds the finishing touch to your khaki pants, enhancing your overall style with a thoughtful and harmonious choice.
Should My Belt Match My Shoes?
Yes, coordinating your belt with your shoes is a timeless fashion rule. Matching the belt color to your shoe color enhances the overall cohesion of your outfit, reflecting a classic and polished aesthetic. Whether brown-on-brown for a casual look or black-on-black for a formal setting, aligning these elements creates visual harmony, contributing to a well-thought-out and stylish appearance.
What Size Belt Should I Buy?
Ensuring the correct belt size is crucial—never rely on guesswork. Belt sizes, conveniently available in even numbers (34, 36, 38, 40, etc.), align with waist measurements. Wrap a tape measure around your waist at your preferred belt-wearing point to find your Size. For inches, employ the formula: Belt Size = Waist/2 + 2 Inches. For instance, if your pants are 34 inches, opt for a 36-inch belt. This method guarantees a comfortable and accurate fit. Always measure and choose wisely, as the correct belt size enhances comfort and contributes to a polished and well-fitted appearance.
FAQ
What is the best color belt for khaki pants?
The best color belt for khaki pants depends on personal style and the occasion. Classic brown belts offer a timeless look, while navy blue adds sophistication. Olive green creates a rugged appeal, and burgundy makes a bold statement. Consider the occasion and personal preference for a well-coordinated ensemble.
Can I match my belt with different colored shoes?
While matching belt and shoe colors is a classic choice, experimenting with subtle variations is acceptable. Neutrals like gray or navy can provide a nuanced look. However, maintaining coordination ensures a polished and put-together appearance.
Are there specific belt widths for different occasions?
Yes, belt width matters. Slim belts offer a modern touch suitable for formal settings, medium widths are versatile, and wide straps add a casual vibe. Choose based on the formality of the occasion and your style.
How do I choose a belt for a formal event?
Opt for a refined leather belt in a classic color, such as brown or black, for formal events. Consider the width and buckle style to ensure a sophisticated and well-coordinated appearance with your khaki pants.
Can I mix and match belt textures with khaki pants?
Absolutely! Treating the belt as an accessory allows for experimentation with different textures. Leather, fabric, or braided belts can add personality to your khaki pants ensemble, providing a unique and stylish touch.
Conclusion
In summary, it's essential to acknowledge that color and texture preferences are subjective and vary from person to person. The above recommendations provide valuable initial guidance for individuals seeking specific advice. Ultimately, personal taste plays a significant role in choosing the right colors and textures for one's outfit. These suggestions aim to assist and inspire, recognizing that individual style choices are diverse and reflect personal expression.