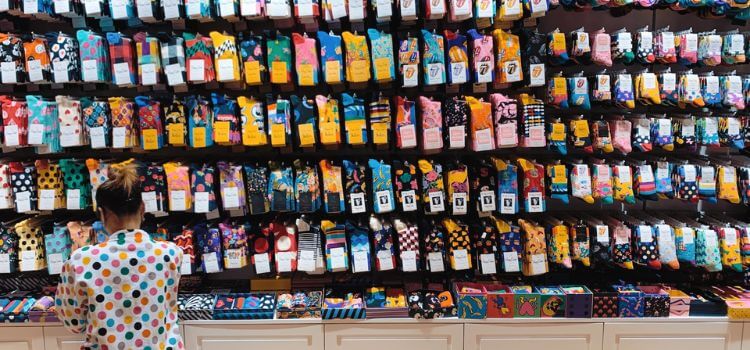 Welcome to the unparalleled comfort and luxury world – the realm of the best alpaca socks. In our quest for the coziest and most durable socks, we've delved deep into alpaca fibers to present you with an exquisite blend of style, warmth, and functionality. Join us as we explore the sheer bliss that awaits your feet with these exceptional accessories.
Types Of Alpaca Socks
Everyday Essentials: Crew Alpaca Socks
Perfect for daily wear, crew alpaca socks provide a classic look and versatile functionality. Their medium length ensures coverage without compromising breathability, making them a staple for any wardrobe.
Trailblazers: Hiking Alpaca Socks
Engineered for adventure, hiking alpaca socks boast extra padding and strategic cushioning, providing unparalleled comfort during extended treks. With moisture-wicking capabilities, they keep feet dry even on the most challenging trails.
Cozy Retreat: Bed Alpaca Socks
Indulge in luxury with bed alpaca socks designed for ultimate relaxation. These are often crafted with a thicker knit, offering warmth and plush softness, making them ideal for chilly nights or lazy days at home.
Performance Prowess: Athletic Alpaca Socks
For the active souls, athletic alpaca socks combine breathability and support. Their moisture-wicking properties keep feet cool during workouts, while the snug fit ensures optimal performance.
Fashion Forward: Patterned Alpaca Socks
Elevate your style with patterned alpaca socks. From stripes to polka dots, these socks merge trend and purpose, allowing you to express your personality with every step.
Alpaca socks cater to a spectrum of preferences and activities, ensuring a perfect pair for every occasion. Discover the joy of unparalleled comfort and style with alpaca socks tailored to your lifestyle.
Why People Love Alpaca Fiber
People love alpaca fiber for its unmatched softness, natural warmth, and hypoallergenic qualities. The fiber's sustainable sourcing adds to its appeal, creating a luxurious, eco-friendly choice that elevates comfort and conscious living in clothing.
Why alpaca fiber is the ideal material for socks:
Unmatched Softness: Alpaca fiber surpasses cashmere in softness, providing a luxurious feel against the skin.
Natural Thermal Regulation: The fiber's inherent thermal properties make alpaca socks perfect for all seasons, offering warmth in winter and breathability in summer.
Hypoallergenic Wonder: Alpaca fiber is naturally hypoallergenic, making it soft on sensitive skin and reducing the risk of irritation.
Moisture-Wicking Mastery: Alpaca socks actively wick moisture away from the feet, ensuring dryness and preventing unpleasant odors.
Durability Personified: Known for its strength, alpaca fiber ensures that socks maintain their integrity and shape, providing long-lasting comfort.
Alpaca fiber ticks all the boxes, offering softness, thermal regulation, hypoallergenic properties, moisture control, and durability—making it the perfect material for socks.
Medical Conditions Alpaca Socks Help
Discover the therapeutic benefits of alpaca socks for various medical conditions:
Diabetes:
Alpaca socks' seamless design and moisture-wicking properties aid in preventing irritation and regulating foot moisture, which is crucial for diabetic foot care.
Arthritis:
The softness of alpaca fibers provides gentle support for sensitive joints, offering comfort to those managing arthritis symptoms.
Raynaud's Disease:
Alpaca socks' superior insulation helps combat the cold, providing warmth for individuals with Raynaud's Disease.
Sensitive Skin:
Hypoallergenic alpaca fiber minimizes skin irritation, making these socks ideal for those with sensitive skin conditions.
Weights of Socks
Explore the diverse weights of alpaca socks for personalized comfort:
Lightweight:
Ideal for daily wear, lightweight alpaca socks offer breathability and comfort, suitable for various activities.
Midweight:
Strike the ideal compare between warmness and breathability with midweight alpaca socks, perfect for cooler temperatures.
Heavyweight:
Embrace ultimate warmth with heavyweight alpaca socks designed to withstand colder climates and provide maximum insulation.
Alpaca socks cater to diverse needs, from medical considerations to personal comfort preferences, ensuring a tailored solution for every wearer.
Typical Sock Lengths
Explore the variety in alpaca sock lengths, catering to different preferences and occasions:
Crew Length:
A classic choice, crew-length alpaca socks reach just below the calf, offering versatile coverage suitable for everyday wear.
Ankle Length:
For a more casual and sporty look, ankle-length alpaca socks provide a shorter cut, ideal for warmer weather or active pursuits.
Knee-High:
Elevate your style with knee-high alpaca socks, offering additional coverage and warmth, making them perfect for colder seasons.
Over-the-Calf:
Provide extra support and coverage over the calf; alpaca socks extend higher on the leg, ensuring a secure fit and added warmth.
No-Show/Invisible:
Perfect for discreet comfort, no-show or invisible alpaca socks remain hidden within your shoes, ideal for a minimalist look.
Whether you prefer the classic crew length or the added warmth of knee-highs, alpaca socks offer a diverse range of lengths to suit every style and occasion.
Staying cool during the summer
Embrace summer with the cooling embrace of alpaca socks, ensuring comfort even in the warmest weather. Alpaca fibers possess natural breathability, wicking moisture away from your skin and allowing air circulation. This unique property prevents overheating, keeping your feet cool and dry throughout the day.
The lightweight design of summer alpaca socks adds to their appeal, providing a comfortable and unrestrictive fit for hot days. The seamless construction minimizes friction, reducing the risk of blisters and enhancing overall comfort.
Whether you're exploring the outdoors or navigating daily activities, these socks offer a perfect blend of style and functionality, ensuring your feet stay cool, dry, and blissfully comfortable during the summer heat. Say goodbye to sweaty discomfort and elevate your summer experience with the refreshing breathability of alpaca socks.
Keeping warm in the winter
As the temperatures drop, alpaca socks emerge as the ultimate winter companions, ensuring your feet stay warm and cozy in the chill. The natural insulating properties of alpaca fibers create a thermal barrier, effectively trapping heat close to your skin.
This innate warmth is particularly crucial during winter, providing insulation without the bulk allowing your feet to stay comfortably snug in cold conditions. The breathability of alpaca fiber prevents overheating, striking a perfect balance between warmth and comfort. Additionally, the moisture-wicking capabilities of these socks keep your feet dry, preventing the discomfort of dampness in chilly weather.
The heavyweight variants of alpaca socks are particularly adept at braving the winter cold, offering extra insulation and protection against frosty temperatures.
Whether you're navigating snowy landscapes or simply staying warm indoors, alpaca socks become your reliable allies, ensuring that the biting cold doesn't hinder your comfort. Embrace the winter wonderland with the unparalleled warmth and coziness that alpaca socks bring, making every step a toasty delight during the frosty months.
How To Care For Your Alpaca Socks
Extend the life and plushness of your alpaca socks with proper care. Begin by turning them inside out before washing them to preserve their fibers. Use cold water and a gentle detergent to avoid damage, and hand wash or use a delicate cycle in the machine. Skip the fabric softeners, as they can diminish the natural softness of alpaca fibers.
After washing, gently reshape the socks and air-dry them flat to maintain their form. Avoid tumble drying, as excess heat can cause shrinkage. To prevent pilling, store your alpaca socks folded instead of hanging. If you encounter stains, address them promptly with a mild stain remover. With these simple steps, you ensure that your alpaca socks retain their luxurious feel and durability, providing long-lasting comfort for countless wears.
Conclusion
In the world of socks, few can rival the sheer magnificence of the best alpaca socks. From unmatched softness and thermal magic to durability and health benefits, these socks redefine the standard of comfort. Elevate your sock game and treat your feet to an experience like never before.