As an Amazon Associate I earn from qualifying purchases.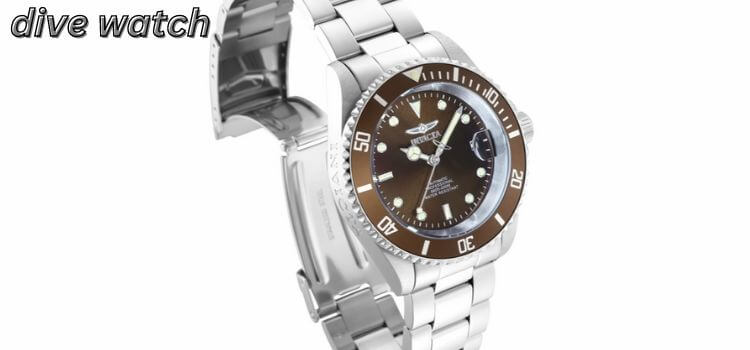 Diver watches have surged in popularity due to their exceptional combination of precision engineering, purposeful design, and rich brand heritage. Renowned for their durability, these timepieces undergo rigorous testing to withstand challenging conditions, appealing to adventurers and everyday wearers.
The functionality, including water resistance and luminescent features, makes them indispensable for underwater exploration. Moreover, brand heritage plays a crucial role, with established watchmakers infusing each timepiece with a legacy of craftsmanship and iconic designs. Specific models, such as the Rolex Submariner and Omega Seamaster, have achieved iconic status, symbolizing timeless style.
Limited editions and strategic collaborations add an exclusive allure, attracting collectors and enthusiasts seeking unique pieces. Diver watches also showcase resilience in innovation, seamlessly integrating technological advancements while preserving traditional craftsmanship.
The storytelling aspect, embedded in the watch's functionality, creates a personal connection between the wearer and the watch's narrative. Global recognition further cements their popularity, with these watches representing a harmonious blend of precision, design, exclusivity, and enduring legacy.
The dive-watch look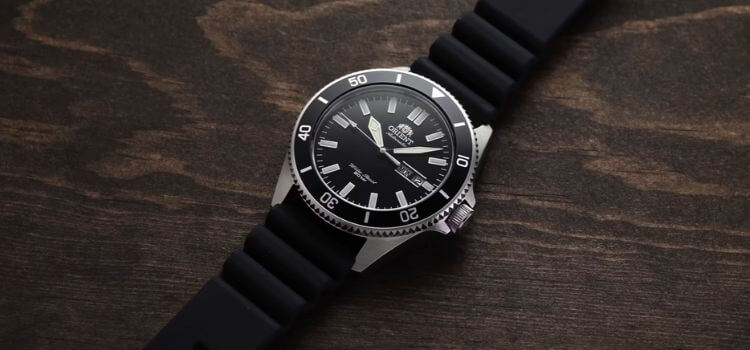 The dive-watch look is characterized by a distinctive combination of design elements that reflects its aquatic origins and enduring style. The watch has a clear and easy-to-read dial with large luminous markers. These watches prioritize readability, especially in low-light underwater conditions.
The unidirectional rotating bezel, often marked with minute indicators, tracks elapsed time during dives and adds a visually striking element to the watch face. Rugged construction, typically crafted from durable materials like stainless steel, enhances water resistance and overall durability.
The dive-watch look often includes water resistance markings on the dial, emphasizing its aquatic capabilities. This aesthetic extends to versatile strap options, from metal bracelets for a sporty feel to rubber or NATO straps for a more casual look. Iconic brand logos and a versatile color palette further contribute to the dive watch's status as a timeless and coveted accessory.
What is a Diver Watch?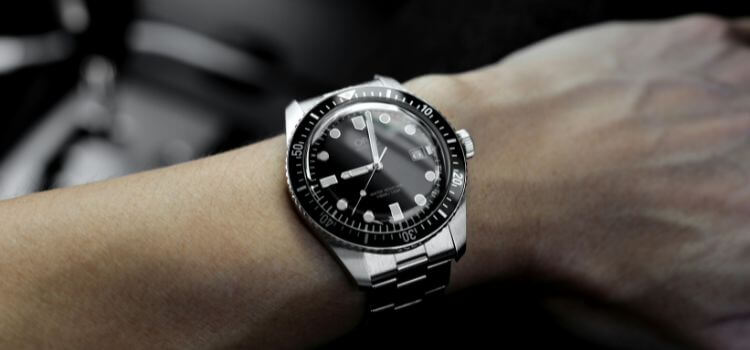 A diver watch, or diving watch, is a specialized timepiece designed for underwater use, renowned for its durability and water-resistant features. These watches are engineered to withstand the challenges of diving and other water-related activities, making them a popular choice among divers and water enthusiasts. Key characteristics include robust construction, tight seals to prevent water ingress, and resistance to water pressure at significant depths.
Diver watches typically feature a unidirectional rotating bezel marked with elapsed time indicators, allowing divers to monitor their immersion time accurately. Luminescent markers and hands enhance readability in low-light underwater conditions. The timepieces often meet international standards, such as the ISO 6425 standard, which outlines water resistance, magnetic resistance, shock resistance, and legibility requirements.
Beyond utilitarian functions, diver watches have become symbols of style and adventure. Many renowned watch brands offer iconic diver watch models, each with a unique design and a heritage rooted in precision engineering. Whether used for actual diving or as a fashion statement, Diver watches combine form and function, embodying a blend of craftsmanship, reliability, and aquatic aesthetics.
How did they come into reality?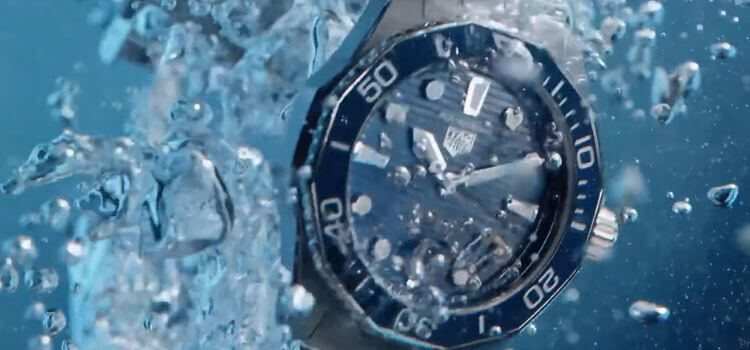 The inception of diver watches became a reality during the mid-20th century, driven by the burgeoning interest in recreational diving. Responding to the need for timepieces that could withstand the challenges of underwater exploration, watchmakers introduced specialized models, notably exemplified by the Rolex Submariner in 1953.
Designed specifically for use in water environments., these watches incorporated revolutionary features such as water resistance, luminescent markers, and a rotating bezel for precise timing. This innovative approach gained widespread acceptance, prompting other manufacturers to enter the niche, leading to further advancements like helium release valves for saturation diving.
The evolution of Diver watches mirrored a commitment to international standards, ensuring their durability and functionality in diverse underwater conditions. Today, these timepieces serve as essential tools for divers and as tangible symbols of precision engineering and adventure in the realm of horology.
What Sets a Diver Watch Apart from the Competition?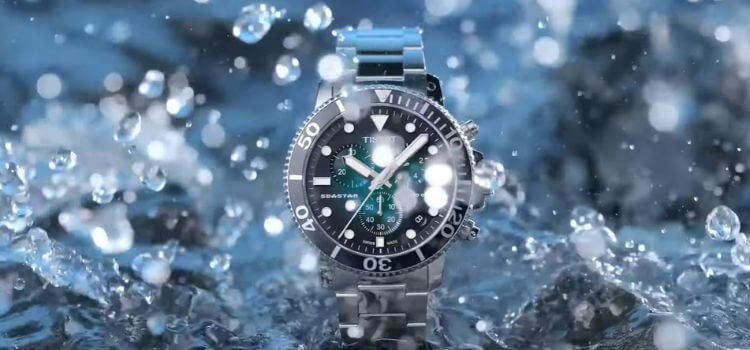 What sets a diver watch apart from the competition lies in its specialized design and functionality for
underwater exploration. These timepieces distinguish themselves through several key features:
Water Resistance: Diver watches undergo stringent testing to withstand water pressure at varying depths. Watches designed for water activities are different from regular watches. They are specifically made to be water-resistant, allowing you to use them underwater without damaging them.
Rotating Bezel: A unidirectional rotating bezel, typically marked with elapsed time indicators, is a hallmark of Diver watches. This feature enables divers to track their immersion time accurately, a crucial aspect of underwater safety.
Luminescent Markings: Luminescent markers and hands achieve enhanced visibility in low-light conditions. This feature ensures readability underwater, setting Diver watches apart from standard timepieces.
Durability: Robust construction using materials like stainless steel or titanium enhances the durability of Diver watches. This durability is essential for withstanding the harsh conditions encountered during diving.
Helium Release Valve: Some high-end diver watches include a helium release valve, catering to saturation divers. This feature prevents the watch crystal from popping off during decompression in helium-rich environments.
ISO Certification: Many Diver watches adhere to international standards, such as ISO 6425, which outlines specific requirements for dive watches, including water resistance, magnetic resistance, and legibility.
In essence, a diver watch's ability to combine these features seamlessly, along with a commitment to precision engineering, durability, and industry standards, sets it apart as a reliable and purpose-built timepiece for underwater enthusiasts.
The versatility of a dive watch
The dive watch epitomizes versatility, seamlessly transitioning from underwater exploration to everyday elegance. Its rugged construction, water-resistant features, and bold designs make it an essential accessory for water enthusiasts. Beyond its proper functions, the dive watch's timeless aesthetic, luminescent markers, and iconic rotating bezel make it adaptable for casual and formal occasions. Whether navigating the ocean's depths or complementing everyday wear, the dive watch stands as a symbol of enduring style, making it a versatile choice for those who appreciate a harmonious blend of functionality and fashion.
You want to own a watch that not only claims to be waterproof but is.
Owning a watch that claims to be waterproof and waterproof is a practical and desirable choice. The assurance of water resistance ensures that the timepiece can withstand the challenges of various environments, particularly those involving water activities. A genuinely waterproof watch eliminates the worry of accidental water exposure, allowing for peace of mind whether engaging in water sports, enjoying a day at the beach, or simply facing unexpected weather conditions. The credibility of its waterproof claim speaks to the watch's quality and reliability, making it a trustworthy companion for everyday wear and adventurous pursuits. With such a timepiece, one embraces a functional accessory and invests in a durable, resilient companion that aligns with an active and dynamic lifestyle.
Who Should Buy a Diver Watch & Why?
A diver watch is ideal for individuals who appreciate a harmonious blend of style, functionality, and durability. Those engaged in water-related activities, such as diving or snorkeling, will find the water-resistant features and robust construction of Diver watches indispensable. Beyond water enthusiasts, individuals seeking a versatile timepiece that seamlessly transitions from adventurous settings to everyday wear will also appreciate the dive watch. Its iconic look, characterized by bold dials, rotating bezels, and rugged aesthetics, makes it a timeless accessory for casual and formal occasions.
Furthermore, collectors drawn to horological craftsmanship and the heritage of renowned watch brands will find diver watches as coveted additions to their collection. Ultimately, a diver watch caters to a diverse audience, offering a combination of reliability, style, and a sense of adventure that transcends the boundaries of conventional timekeeping.
Conclusion
The Diver watch transcends its utilitarian origins, embodying a versatile blend of timeless style, functionality, and durability. This timepiece appeals to a diverse audience, from its distinctive dive-watch look characterized by bold dials and rugged construction to its practical features like water resistance and rotating bezels.
Whether you're an avid diver seeking a reliable underwater companion, a style enthusiast looking for a classic yet adventurous accessory, or a collector drawn to horological heritage, the diver watch caters to varied tastes and preferences. Its enduring appeal lies in its technical prowess and ability to seamlessly adapt from the ocean's depths to everyday settings, making it a symbol of adventure and refined taste.
As you consider the Diver watch, you embrace not just a timekeeping device but a companion that stands the test of time, both in design and functionality.
Amazon and the Amazon logo are trademarks of Amazon.com, Inc, or its affiliates.